sale-a-bration
« Previous Entries
Hey everyone!
Stampin Up just added more Sale-abration items from the catalog, so if you already have all of the ones you want, now there are even more to choose from!!
There are only 2 weeks left to get all of these FREE items! This is the best time of year to stock up on cardstock, ribbon, markers, adhesive, inks, etc!!! Want to get a Big Shot, you get 2 free level 1 or a level 2 item for FREE!!
Enjoy Sale-A-Bration 3 Ways:
****You can earn FREE Sale-A-Bration exclusive products for every $50 you spend (based on your total before shipping and tax). $100 reward level gives you more flexibility and options for your free items.
If you spend $50, you earn one free level 1 product.

If you spend $100, you earn one free level 2 product, OR, you can choose two level 1 items.

If you spend $150, you have the option to choose three level 1 items or one level 1 item and one level 2 item. You'll also qualify at $150 for Hostess benefits (more FREE products)
****BIG WISH LIST? Place an order of $250 or more and get $25 BONUS in additional hostess rewards. You'll also earn a FREE Sale-A-Bration product for every $50 you spend (total before shipping and tax) or a combination of level 1 and level 2 gifts per above.
****THE ULTIMATE BUNDLE PLUS 2 FREE STAMP SETS! Now is the time to purchase the $99 Starter Kit and join Stampin' Up! Build your kit with up to $125 in your choice of products – that's $26 FREE and the kit ships FREE for another 10% savings. PLUS>>>>>>>
As a Sale-A-Bration bonus, add your choice of TWO FREE STAMP SETS (either the Occasions or Annual Catalog, any price). Plus you get a free paper pumpkin kit. That's over $250 worth of product for only $99!!!!!
Just click the JOIN MY TEAM button at the top of the page!! or click here http://www.stampinup.net/esuite/home/stampinwithlisa/jointhefun
Hostess and Sale-A-Bration stamp sets are excluded – however, immediately after purchasing the kit, you can place a qualifying demonstrator order to earn them (with a 20% discount). No risk. No obligation to purchase more (but you'll have at least a 20% discount if you do). There is no penalty to drop and you will be able to take advantage of benefits and discounts thru a minimum of July 31, 2018!
Hey everyone!
Have you had a big ticket item on your list for a while? Maybe you have been wanting to get the whole set of stampin blends or the Big Shot or the set of markers or the large letters framelits?? Or maybe you just have a wish list a mile long! No matter what you want to get, now is the best time of year to get it!!
Because during Sale-abration, you can get your wish list for half price!!
Big Shot

143263

Price

:

$110.00

Say hello to your crafty friend—the Big Shot. It's a manual, multipurpose die-cutting system that you can use to quickly and easily create die-cut or embossed shapes, envelopes, tags, and 3D items.
Many Marvelous Markers

131264

Price

:

$110.00

All 38 colors in our color collections (except Whisper White and Very Vanilla) in one sturdy case. Plus there's extra space for In Color markers.
Right now during Sale-abration, you can!
The starter kit is $99 and you can pick up to $125 for free!! Plus during Sale-abration, you also get to pick 2 ANY PRICE stamp sets for FREE in addition to the $125 in product , and you also get a free paper pumpkin kit too!!!!
so you can get over $200 worth of stuff for only $99. Plus there is no shipping either so you will save an additional 10% .
Here is an example….( you can pick whatever you want though)
Pick the Whole set of Stampin Blends ($121)
And a pack of sponges ($3.50)
Then get any 2 stamp sets you want,
Ex: Guy Greetings ($52)
Ex: Letters for You ($49)
Free Paper Pumpkin Kit included! ($20)
You only pay $99 total for all of that!
That is over $245 worth of product for only $99!
You don't have to do anything else after you get the kit unless you want to. There is no contract or obligation to buy anything else but the discount is nice if you want to stay active or if you want a little extra side money. If you would like to get your stampin kit, just click on the Join My Team button at the top of the page.
Hey everyone!
I knew when I first saw the Sale-abration mini catalog that the Heartfelt Blooms set would be my favorite and it definitely is! This set is so beautiful by itself.
You really don't even have to be creative to make a gorgeous card with it. Just stamp it and add some words or ribbon and it's good to go.
For this card, I started with a piece if lemon lime twist cardstock and stamped the Marbled background on it in lemon lime twist.
Then I cut 3 pieces of white cardstock at 3 1/4 by 1 1/4.
I stuck them on a postit note to keep them together while I stamped the main image(in Bermuda bay) and then pulled them off and adhered to the Bermuda bay piece which is 4 1/4 by 3 1/2.
I used the Bermuda bay ribbon that is free in the sale-abration ribbon bundle and also added a clear faceted gem to the center of the flower. The words are also included in the stamp set.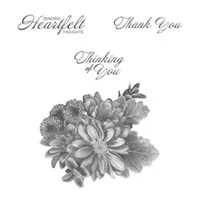 147202Heartfelt Blooms Clear-Mount Stamp Set$0.00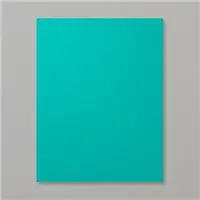 131197Bermuda Bay 8-1/2″ X 11″ Cardstock$8.00
131171Bermuda Bay Classic Stampin' Pad$6.50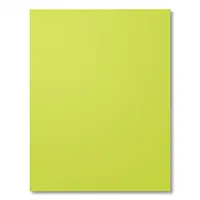 144245Lemon Lime Twist 8-1/2″ X 11″ Cardstock$8.00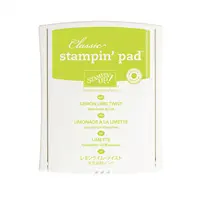 144086Lemon Lime Twist Classic Stampin' Pad$6.50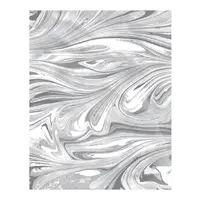 144772Marbled Clear-Mount Stamp Set$15.00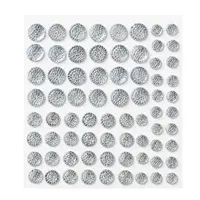 144142Clear Faceted Gems$5.00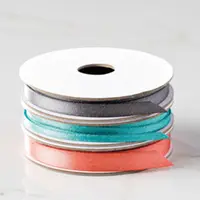 1472433/8″ (1 Cm) Shimmer Ribbon Pack$0.00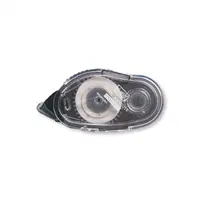 104332Snail Adhesive$7.00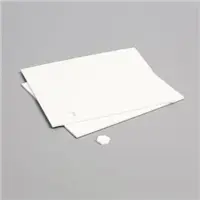 104430Stampin' Dimensionals$4.00
Hey Everyone!
I can't believe I just found a video I did a few months ago and realized I never posted it! Sometimes I am such a dingbat! LOL!
I made this card last summer and posted it and for some reason I forgot to post the video to go with it so here ya go!!
For this card, I used lemon lime twist, night of navy and the Delightful Daisy stamp set with matching punch.
Here is a close up of the daisy. I stamped it in night of navy, then sponged the edges in lemon lime twist and then took the wink of stella brush and colored the center and the inside half of the flower. It really blended the navy nicely. I love that effect.
And here is the video tutorial to go with it!
There are so many gorgeous products in the Delightful Daisy Suite. You will want to get all of the matching papers, ribbons and accessories to go with your stamp set.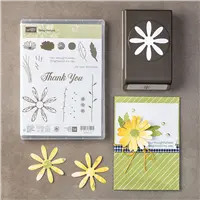 145361Daisy Delight Photopolymer Bundle$31.50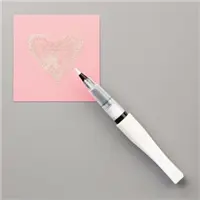 141897Clear Wink Of Stella Glitter Brush$8.00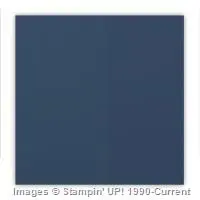 124282 Night Of Navy 8-1/2″ X 11″ Card Stock$5.95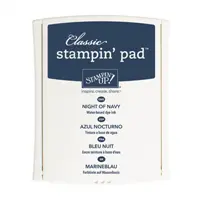 126970 Night Of Navy Classic Stampin' Pad$6.50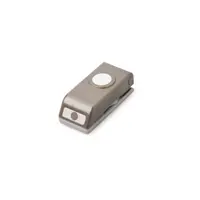 119869 1/2″ Circle Punch$6.00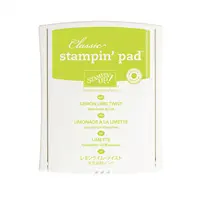 144086 Lemon Lime Twist Classic Stampin' Pad$6.50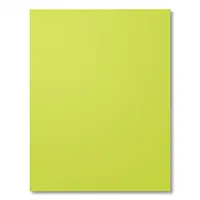 144245 Lemon Lime Twist 8-1/2″ X 11″ Cardstock$8.00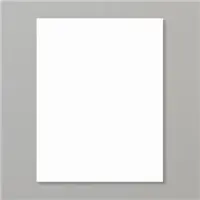 100730 Whisper White 8-1/2″ X 11″ Cardstock$9.00
Lisa
Hey everyone!
Here is another card I made with the Stampin Up Brusho Crystals. I just love the burst of color you get when water hits these crystals.
For this card, I lightly spritzed the watercolor paper and then sprinkle it with the yellow, orange and red crystals.
Then I spritzed it again and the colors just exploded all over the paper. I blotted it with a paper towel and let dry.
After it was completely dry, I stamped the flower from the Remarkable You and the words from the new Sale-abration set Happy Wishes. That set is free with your $100 order through the end of March.
The ribbon is also a freebie from Sale-abration. It is shimmery calypso coral. You get 3 rolls of different colored ribbon in one pack for free with a $50 order!
| | Image | Sku | Name | Price | |
| --- | --- | --- | --- | --- | --- |
| | | 139894 | Remarkable You Clear-Mount Stamp Set | $33.00 | |
| | | 144101 | Brusho Crystal Colour | $30.00 | |
| | | 147227 | Happy Wishes Clear-Mount Stamp Set | $0.00 | |
| | | 147243 | 3/8″ (1 Cm) Shimmer Ribbon Pack | $0.00 | |
| | | 122959 | Watercolor Paper | $5.00 | |
| | | 126185 | Stampin' Spritzer | $3.00 | |
| | | 132708 | Tuxedo Black Memento Ink Pad | $6.00 | |
| | | 122925 | Calypso Coral 8-1/2″ X 11″ Cardstock | $8.00 | |
| | | 119683 | Daffodil Delight 8-1/2″ X 11″ Cardstock | $8.00 | |
| | | 100730 | Whisper White 8-1/2″ X 11″ Cardstock | $9.00 | |
Sale-A-Bration New Release
Sale-a-Bration is going strong and to sweeten the deal, Stampin' Up! has just released new reward items!You are going to love these new rewards just released TODAY February 16th!
Sale-a-Bration is the most popular sale of the year because you get bonus rewards whether you shop, host, or join.
YOU CAN SEE ALL OF THE NEW FREE SALE-ABRATION ITEMS HERE
Choose just released FREE exclusive reward stamp sets or other items with each purchase of $50. New this year – earn even bigger rewards when you spend $100, like the Blossoming Basket Bundle.
The Basket Weave Dynamic Textured Impressions Embossing Folder is part of the new Blossoming Basket Bundle. The Basket Weave folder only, is a carry over item to the 2018-2019 Annual Catalog so now is your opportunity to get it early – for free!
Take a closer look at this beautiful Blossoming Basket Stamp Set.
This bundle is a level 2 Sale-A-Bration item, and at first glance you might think, "That's a cute little basket of flowers." And it definitely is. But it is much more than that too. Watch the video and see more.
Here is an example (above) of the basket just colored with one shade of the blends, but look at the second photo and you can see how it really pops when you add the 2 shades of each color.
The new basket weave embossing folder comes in the bundle and you can create some gorgeous background paper with it. Just look at the 3D image pop. Or emboss and then punch it out with one a basket framelit to create a cute flower pot.
To get any of the items shown, just place your order of $50 or $100 (to get the bundle)
Hey everyone!
I love the new Mixed Medallion Stamping kit on pg 6 in the Sale-a-bartion mini catalog. It is so pretty and comes with EVERYTHING you need to complete 8 beautiful cards, including adhesive.
You can pack it up to take with you anywhere. They make great gifts for new stampers too.
The best part is it is totally FREE with your $50 order. Or order $100 and get a kit for you and a kit for a friend.
Quickly and easily create 8 "thank you" and "congratulations" trifold cards. Everything you need is included!
Aren't these cards adorable?!
Mixed Medallions Card Kit

147183

Price

:

$0.00

This kit lets you create eight trifold medallion cards in no time!

Kit includes:
* 8 trifold card bases (4 each of 2 designs)
* 8 white envelopes
* 1 die-cut sheet with English, French and German pieces
* 75 adhesive dots

Coordinating colors: Berry Burst, Calypso Coral, Sahara Sand, white
Check out this quick video from Stampin up! You won't believe how easy these kits are to put together. Get your free kit today!
Hey everyone!
How would you like to get a FREE stamp set from Stampin Up? There are several FREE sets to pick from during Sale-abration including this adorable Peacock set. You get to choose 1 item free with every $50 you order.
AND this year there are 2 items you can choose from with $100 order!! One is a HUGE stamp set and another one is a Framelits set.
This year's sale-abration options are out of this world and you will want o get them all!
Here are a couple of samples of the Beautiful Peacock set. You can't purchase it though, you can only get it free with your qualifying order. Check out all of the great new items in the Stampin Up Occasions mini!
Beautiful Peacock Photopolymer Stamp Set

147239

Price

:

$0.00
Hey everyone!
Today is the first day of Stampin Up's Sale-a-bration and I am so excited!! It means LOTS of free products!! It is also the first day of the new Occasions mini!
Today I want to showcase the new designer papers in the Occasions mini.
Here is a great video from Stampin Up that shows you up close and personal all of the new papers so you can see how gorgeous they are! You will want to have all of them!
Here are a couple of my favorite ones….
Painted With Love Specialty Designer Series Paper

145580

Price

:

$13.00
Picture Perfect Party 6″ X 6″ (15.2 X 15.2 Cm) Designer Series Paper

145559

Price

:

$10.00
Have a great week!
Lisa
Hey everyone!
I am so excited because Sale-a-bration starts tomorrow, Jan 3rd!! It is my favorite time of year because you get lots of FREE STUFF!!!!
Here is a video from Stampin Up that shows my FAVORITE FREE ITEM this year. It is called Heartfelt Blooms and I think it is one of the most beautiful stamp sets I have ever seen. I just love it and after watching this video you will have to have it too!!!!
Here are all of the details for Sale-abration!!!
BONUS! CHOOSE TWO FREE STAMP SETS STARTING JAN. 3! Add 2 FREE stamp sets (any price) of your choice to the $99 Starter Kit during Sale-A-Bration (starts Jan. 3). That's up to an additional $101 value! Host Rewards & Sale-A-Bration stamp sets are excluded.
HAPPY SHOPPING! Enjoy 20 – 25% off Stampin' Up! products on subsequent orders from the day you purchase the kit and join Stampin' Up! (demonstrator status and perks) through at least July 31, 2018. You'll get to take advantage of your demonstrator discount on the new Occasions Catalog products as well as earn Sale-A-Bration Rewards! There's no penalty to drop!
Gentle Reminder: If you have been putting off ordering and thinking you will do so at a later date, it's probably a good idea to take a look at the Year-End Sales Event which will come to a close tonight at 8:50pm Eastern Time
Remember that while some bundle products are remaining as separates and carrying over, the bundle price discounts won't be. Save 10% on the bundle by purchasing tonight!
When they're gone, they're gone – so don't miss out. Just click on the shopping cart at the top right to visit my on-line store and shop the Year-End Sales Event for discounted and retired products. And, check out the Clearance Rack for more amazing deals!
« Previous Entries