Stampin UP sale!
« Previous Entries
Next Entries »
Hey everyone!
I came up with a technique similar to the baby wipe technique using the Brusho Crystals.
It is so easy and creates a really neat looking watercolor background.
I used the Waterfront Stamp set for this card. The background is created with Lovely as a Tree.
I love the mountains and trees and the water stamps in this set. They are so realistic looking.
For this card, I used Bermuda bay cardstock and watercolor cardstock (3×4 1/2).
I created ink pads using paper towels and the brusho crystals to stamp the images.
I made a video tutorial to show you exactly how I did it.
Check it out here (if you are reading in an email, you need to click the link to view on my blog)
Waterfront Photopolymer Stamp Set

146386

Price

:

$17.00

Create tranquil sceneries, whether it's lakes lined with trees, tropical islands, or snow-covered forests. This set is ideal for trying out new coloring techniques.

Quantity: 16 photopolymer stamps
Suggested clear blocks (sold separately): a, b, c, h
Lovely As A Tree Clear-Mount Stamp Set

127793

Price

:

$20.00

These timeless tree images will fill any landscape and keep you in tune with nature. They're great for watercoloring.

Quantity: 6 rubber stamps
Suggested clear blocks (sold separately): a, c, i
Brusho Crystal Colour

144101

Price

:

$30.00

Watercolor ink crystals—Sprinkle them directly on water-washed paper and watch the colors burst!

* Package includes 5 pots, 1 each of 5 colors: Brilliant Red, Gamboge (orange), Moss Green, Prussian Blue, Yellow
* 0.5 oz. (14 g) each pot
Sale-A-Bration New Release
Sale-a-Bration is going strong and to sweeten the deal, Stampin' Up! has just released new reward items!You are going to love these new rewards just released TODAY February 16th!
Sale-a-Bration is the most popular sale of the year because you get bonus rewards whether you shop, host, or join.
YOU CAN SEE ALL OF THE NEW FREE SALE-ABRATION ITEMS HERE
Choose just released FREE exclusive reward stamp sets or other items with each purchase of $50. New this year – earn even bigger rewards when you spend $100, like the Blossoming Basket Bundle.
The Basket Weave Dynamic Textured Impressions Embossing Folder is part of the new Blossoming Basket Bundle. The Basket Weave folder only, is a carry over item to the 2018-2019 Annual Catalog so now is your opportunity to get it early – for free!Take a closer look at this beautiful Blossoming Basket Stamp Set.
This bundle is a level 2 Sale-A-Bration item, and at first glance you might think, "That's a cute little basket of flowers." And it definitely is. But it is much more than that too. Watch the video and see more.
Here is an example (above) of the basket just colored with one shade of the blends, but look at the second photo and you can see how it really pops when you add the 2 shades of each color.
The new basket weave embossing folder comes in the bundle and you can create some gorgeous background paper with it. Just look at the 3D image pop. Or emboss and then punch it out with one a basket framelit to create a cute flower pot.
To get any of the items shown, just place your order of $50 or $100 (to get the bundle)
Hey everyone!
If you are like me, then you love quick and easy projects! Stampin Up has created some amazing card kits and the Perennial Birthday Kit is no exception!
This kit contains supplies to make 16 birthday cards plus you get a gorgeous box to keep them in that includes dividers with a birthday calendar on each one. You will keep this box forever to organize your cards.
Check out all of these gorgeous cards and the beautiful box that are included in this kit.
Look at all of the supplies you get in this kit!
Perennial Birthday Project Kit

145579

Price

:

$27.00

Stock this delightful box with birthday cards you make yourself and you'll never forget to send a birthday card again. Kit includes supplies for making 16 birthday cards, 4 each of 4 designs, plus the box to store them in. Keep ahead by recording birthdays on the tabbed dividers for month-at-a-glance reminders.

Kit includes:
* 16 printed card bases, folded size 4-1/4″ x 5-1/2″ (10.8 x 14 cm)
* 16 white Medium Envelopes
* 12 printed tabbed dividers, 6-3/8″ x 5-1/4″ (16.2 x 13.3 cm)
* printed and white die-cut accents
* gold foil sticker sheets with month names in English, French, and German
* gold 5/8″ (1.6 cm) satin ribbon
* Dapper Denim Solid Baker's Twine
* printed storage box, 6-3/4″ x 5-1/4″ x 3-3/4″ (17.2 x 13.3 x 9.5 cm)
Here is a great video from Stampin UP that shows you up close all of the great cards and tips to help you put this kit together.
You will also need this stamp set to complete your cards plus a couple of ink pads, scissors and adhesive.

Perennial Birthday Clear-Mount Stamp Set

145760

Price

:

$22.00

Who says you can only celebrate birthdays once a year? There are dozens of them—as many as you know people. And this stamp set will help you to stay in party-mode all year long!
Hey everyone!
I love the new Mixed Medallion Stamping kit on pg 6 in the Sale-a-bartion mini catalog. It is so pretty and comes with EVERYTHING you need to complete 8 beautiful cards, including adhesive.
You can pack it up to take with you anywhere. They make great gifts for new stampers too.
The best part is it is totally FREE with your $50 order. Or order $100 and get a kit for you and a kit for a friend.
Quickly and easily create 8 "thank you" and "congratulations" trifold cards. Everything you need is included!
Aren't these cards adorable?!
Mixed Medallions Card Kit

147183

Price

:

$0.00

This kit lets you create eight trifold medallion cards in no time!

Kit includes:
* 8 trifold card bases (4 each of 2 designs)
* 8 white envelopes
* 1 die-cut sheet with English, French and German pieces
* 75 adhesive dots

Coordinating colors: Berry Burst, Calypso Coral, Sahara Sand, white
Check out this quick video from Stampin up! You won't believe how easy these kits are to put together. Get your free kit today!
Hey everyone!
I was just watching the Stampin Up video about the Barn Door Bundle, and it is the COOLEST thing I have ever seen!
Stampin Up has outdone themselves with this brilliant Barn Door stamp set and matching Sliding Door framelits.
It looks so complicated at first, but after watching the video, I can't wait to try it out.
This video has step by step instructions and a really cute project to try out. If you are like me, I am a visual person and seeing how this set works makes it so much easier.
I hope you will check out this video and I think you will love this bundle as much as I do.
I love this card too! It is so adorable and easy to make. No cutting either!
Barn Door Clear-Mount Bundle

145990

Price

:

$42.25

Bundle and save! Buy these two coordinating products and save 10%.

Barn Door Clear-Mount Stamp Set
Show someone that your door is always open for them. . .
* Quantity: 8 rubber stamps
* Suggested clear blocks (sold separately): a, b, c, e

Sliding Door Framelits Dies
. . . by creating fabulous doors that you can actually slide!
* 15 dies
* Largest die: 2-1/4″ x 3-3/8″ (5.7 x 8.6 cm)
* Use with Big Shot
It's time to welcome a whole new world of colorful creativity to the Stampin' Up! family! Stampin' Blends are here and I am thrilled. I just know you are going to love these alcohol markers. They offer artist-quality, coordination with Stampin' Up! colors, and the simplicity of pre-coordinated light & dark color pairs. They are so easy to use. You can create gorgeous cards other gifts with these alcohol markers.
With 12 exclusive Stampin' Up! colors, plus two skin tones and the magical Color Lifter you'll have everything you need to discover a whole new love for coloring and blending. Best of all – you can achieve beautiful artist-quality results with just a bit of practice, no art degree required. You will love them!! Check out this gorgeous butterfly card using the stampin blends.
To make it even easier to start getting creative with Stampin' Blends, we have a limited-time 16-card project kit and stamp set with beautiful line-art images. I just know the Color Me Happy Project Kit is going to be a huge hit, so don't wait and miss out since they are only available while supplies last.
COLOR ME HAPPY STAMP SET & PROJECT KIT
New to Blending?
Order your Color Me Happy Project kit and matching stamp set and get the colorful fun started now!
Lisa
Hey everyone!
How would you like to get a FREE stamp set from Stampin Up? There are several FREE sets to pick from during Sale-abration including this adorable Peacock set. You get to choose 1 item free with every $50 you order.
AND this year there are 2 items you can choose from with $100 order!! One is a HUGE stamp set and another one is a Framelits set.
This year's sale-abration options are out of this world and you will want o get them all!
Here are a couple of samples of the Beautiful Peacock set. You can't purchase it though, you can only get it free with your qualifying order. Check out all of the great new items in the Stampin Up Occasions mini!
Beautiful Peacock Photopolymer Stamp Set

147239

Price

:

$0.00
Hey everyone!
Today is the first day of Stampin Up's Sale-a-bration and I am so excited!! It means LOTS of free products!! It is also the first day of the new Occasions mini!
Today I want to showcase the new designer papers in the Occasions mini.
Here is a great video from Stampin Up that shows you up close and personal all of the new papers so you can see how gorgeous they are! You will want to have all of them!
Here are a couple of my favorite ones….
Painted With Love Specialty Designer Series Paper

145580

Price

:

$13.00
Picture Perfect Party 6″ X 6″ (15.2 X 15.2 Cm) Designer Series Paper

145559

Price

:

$10.00
Hey everyone!
I am so excited because Sale-a-bration starts tomorrow, Jan 3rd!! It is my favorite time of year because you get lots of FREE STUFF!!!!
Here is a video from Stampin Up that shows my FAVORITE FREE ITEM this year. It is called Heartfelt Blooms and I think it is one of the most beautiful stamp sets I have ever seen. I just love it and after watching this video you will have to have it too!!!!
Here are all of the details for Sale-abration!!!
BONUS! CHOOSE TWO FREE STAMP SETS STARTING JAN. 3! Add 2 FREE stamp sets (any price) of your choice to the $99 Starter Kit during Sale-A-Bration (starts Jan. 3). That's up to an additional $101 value! Host Rewards & Sale-A-Bration stamp sets are excluded.
HAPPY SHOPPING! Enjoy 20 – 25% off Stampin' Up! products on subsequent orders from the day you purchase the kit and join Stampin' Up! (demonstrator status and perks) through at least July 31, 2018. You'll get to take advantage of your demonstrator discount on the new Occasions Catalog products as well as earn Sale-A-Bration Rewards! There's no penalty to drop!
Gentle Reminder: If you have been putting off ordering and thinking you will do so at a later date, it's probably a good idea to take a look at the Year-End Sales Event which will come to a close tonight at 8:50pm Eastern Time
Remember that while some bundle products are remaining as separates and carrying over, the bundle price discounts won't be. Save 10% on the bundle by purchasing tonight!
When they're gone, they're gone – so don't miss out. Just click on the shopping cart at the top right to visit my on-line store and shop the Year-End Sales Event for discounted and retired products. And, check out the Clearance Rack for more amazing deals!
The biggest sale of the year! Earn free, exclusive products with every qualifying order.
SALE-A-BRATION
The biggest sale of the year! Earn free, exclusive products with every qualifying order.
Hello

Happy New Year! I hope your New Year is off to a great start!

Personally, I think the New Year really kicks off on January 3rd when the new Occasions Catalog and Sale-A-Bration start.

The Occasions Catalog is blooming with everything you need for your Spring occasions and holidays from Valentine's to Father's Day.

Sale-a-Bration is the most popular sale of the year because you get bonus rewards whether you shop, host, or join.
SHOP – Choose FREE exclusive reward stamp sets or other items with each purchase of $50. New this year – earn even bigger rewards when you spend $100.
HOST – Earn EXTRA Stampin' Rewards with party sales of $250.

JOIN – Choose $125 in Stampin' Up! products, plus choose 2 additional FREE stamp sets (another $100 Value!!), all for only $99!

My calendar fills quickly this time of year so please contact me today to schedule your event!
Have a great week!
Lisa
PS. You have through January 2nd to get your favorites from the Holiday Catalog before they go away for good.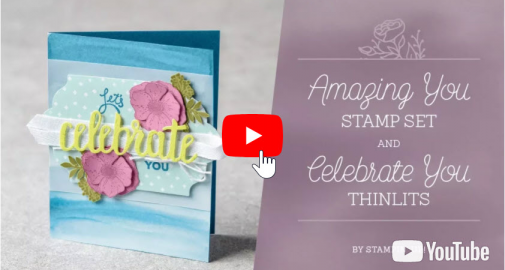 Earn the amazing Amazing You Stamp Set and Celebrate You Thinlits Dies by Stampin' Up! for FREE when you make a qualifying purchase during Stampin' Up!'s annual Sale-A-Bration event.
Lisa Freeman
Chesapeake, VA

email me
stampgirl2@cox.net
« Previous Entries
Next Entries »